China Business Tour
Curtin Business School's MBA and Executive Education is pleased to announce that we will be bringing together a group of MBA students, alumni, executives, SMEs and entrepreneurs for a seven day tour of three of China's most innovative cities.
Discover China
The tour provides delegates with the opportunity to gain deeper insight into the world's most successful businesses. It is a unique opportunity to experience business environments that are culturally, physically and institutionally different from those in Australia.
Participants will spend seven days meeting with and gaining insights from 'Chinese insiders', including visits of organisations such as Tencent, TusPark, the Western Australian Government Office and Lenovo*. Participants will develop practical insights and a fresh perspective that they will be able to apply to their organisations or start-ups and to evaluate the opportunities for doing business in China. It will also provide valuable opportunities for professional development and lifelong learning.
*Activities may be added to, cancelled or substituted without notice
Why choose CBS' China Business Tour?
• Learn from and engage with China's fast moving innovation culture
• Expand your knowledge of doing business in China
• Get an introduction to the Chinese entrepreneurial landscape
• Develop global business skills
• Develop cross-cultural collaboration skills
• Discover more about yourself, both personally and professionally
• Experience the challenges and opportunities facing organisations in China
• Extend your global awareness and enhance your international perspective as a manager
• Gain valuable insight into the operations of global corporations in different counties
• Build an international network and make life-long friends
---
Tour Details
Dates:
TBC
Cost:
Approximate $8,000*
This includes deposit, internal travel within China, accommodation, airport transfers, networking event catering, lectures, all education materials, pre and post-briefing sessions and a welcome meal.
This cost does not include international return flights, travel visa, meals and other expenses participants may incur during the trip. Non-Curtin delegates will also have to arrange for their own travel insurance.
A deposit is required to secure your place.
Please read the Terms and Conditions before applying.
*Cost is subject to change based on accommodation and internal travel cost fluctuations.
Current MBA students who are interested in taking part in this tour must enrol in the unit MGMT5017 International Business Study Tour. The unit involves pre and post-tour course work. This study tour is also suitable for online students and will be treated as an intensive availability. Please contact our team to enrol.
---
Beijing – Capital of China
Beijing is China's political, economic, and cultural center. The world's third most populous city, Beijing is still rooted in ancient history, even as the city reaches towards new heights, both metaphorically and physically. Zhongguancun, also known as China's Silicon Valley, sits to the north-west, and is the birthplace of numerous technology firms, such as Lenovo. Zhongguancun Technology Park also houses the Chinese headquarters and research centres of numerous world-renowned technology firms, including Google and Microsoft.
Shanghai – Science and Technology Innovation Centre
As an international centre of economy, finance, trade and shipping, Shanghai is also at the forefront of promoting scientific and technological innovation. Implementing an innovation-driven development strategy and striving to build a science and technology innovation centre with global influence, the city has more than 300 national, municipal and county-level development zones, industrial parks and high-tech parks.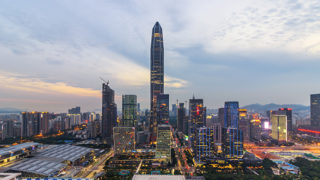 Shenzhen – China's Emerging Silicon Valley
Has been one of the fastest growing cities in the world and China for the last 35 years. It is now a prosperous megacity and an emerging centre of innovation. A large immigrant city which is a manufacturing hotspot and home to some of the world's most modern buildings. Shenzhen's manufacturing has become increasingly high-tech, new-tech, and clean-tech favouring such industries as new information technology, biotechnology, new energy, new materials, numerical control tools, and robotics.
---
Testimonials
2019 tour testimonial
2018 tour testimonial
"The opportunity to travel China to experience business has been a life changing experience. From the moment you step off the plane and start the immersion into a totally different culture and way of life, its reinforced how often at home, we just exist in a comfort zone.Whilst the expectation prior to the trip was about learning and exploring business opportunities in China, the reality for me was more personal, a journey of self-discovery I guess. The trip was both exciting and inspiring, but at times it was also confronting, tiring and emotional. This however led to amazing opportunities to learn about yourself and my peers that were on the trip.My experience in travelling with a group of people that I didn't know provided for interesting conversations, fun times and life long memories. From a business or learning perspective, it does not take long for you to realise how significantly more advanced the Chinese way of life and business methods are. This is both exciting and scary, but from this I have taken valuable lessons that I can now apply to my business and my life."
Chris Gibbs
You can read more about the experiences shared by participants of the 2019 tour here.
"The Curtin MBA / Exec Ed China Business Tour was outstanding. I attended the 2018 program, visiting Shanghai, Hangzhou and Shenzhen. The tour included visits to WAGO in Shanghai and discussions with various business and trade centres in the different cities.  We were warmly received at Foxconn, Tencent (Mr John Lo – Curtin Alumni) and other Hi-tech entrepreneurial centres. We were entertained by robots that walked and talked – and others hard at work building Apple computers. The tour concluded with a visit to the Shenzhen Arbitration Commission. From this tour the team gained an understanding of the magnitude of potential offered by our trade relationships with China. It opened minds, started conversations and welcomed involvement.Export talks for my innovative agribusiness project commenced immediately on our return. This tour also cemented the friendships of a group of West Australians  "the China Group' – forever networked. What a privilege – thank you all! "
Cathie Bowen
You can read more about the experiences shared by participants of the 2018 tour here.