Symposium Speakers
Professor Nigel de Bussy
Pro Vice-Chancellor
Faculty of Business and Law, Curtin University
Professor Nigel de Bussy is Pro Vice-Chancellor of Curtin Business School. Nigel holds a PhD from Curtin University and an MA from The Queen's College, Oxford. He is a Fellow of both the Public Relations Institute of Australia and the Australian Marketing Institute, and a Certified Practising Marketer. Nigel joined CBS as a lecturer in public relations in 1994 and was Head of the School of Marketing from 2012 – 2017. Before joining Curtin, Nigel spent more than a decade as a public relations professional in the UK and Australia. His research has been published in a number of leading journals in the fields of public relations, communication management and marketing communications.
---
Hon. Paul Papalia MLA
Minister for Tourism; Racing and Gaming; Small Business; Defence Issues; Citizenship and Multicultural Interests
Paul Papalia was born in Bunbury and raised in the small south west town of Burekup. He entered the Royal Australian Navy and served in the military for 26 years, commanding a Clearance Diving Team, a navy patrol boat and the Navy's submarine escape and rescue service. Paul served in the counter terrorist squadron of the Special Air Service Regiment and was deployed on operations to Iraq on two occasions. He was awarded the Conspicuous Service Cross and Commendations from both the Land and Maritime Commanders.
Paul was first elected to the seat of Peel in February 2007, to the new seat of Warnbro in 2008 and subsequently re-elected in 2013 and 2017. Paul has served as Shadow Minister for Tourism, Corrective Services and Defence Issues.
In March 2017, Paul was appointed as Minister for Tourism; Racing and Gaming; Small Business; Defence Issues; Citizenship and Multicultural Interests in the McGowan Government. Paul has focused on the delivery of the Government's pledge to create jobs for Western Australians and diversify our economy by increasing interstate and international visitation.
He is overseeing the investment of $425 million over the next 5 years to enhance destination and events marketing, leading campaigns that position Western Australia as the alternative gateway to Australia in key markets and attracting major events that encourage people to explore our extraordinary State. He is actively pursuing airlines to increase direct flights to Perth and is spreading the message that Western Australia is a high quality, affordable destination for business and leisure travellers, international students and their families.
---
Dr Michael Volgger
Senior Lecturer
School of Marketing, Curtin University
Dr Michael Volgger is currently a Senior Lecturer at Curtin University's School of Marketing and is Co-Director of its Tourism Research Cluster. Michael is also an Adjunct to the Catholic University Eichstätt-Ingolstadt in Germany. Michael has extensive international research experience and has conducted more than 25 applied research projects in Australian and European tourism destinations and published about 75 scholarly publications. His main areas of expertise include tourism destination governance and regional development, product development and innovation in tourism, sharing economy as well as inter-organisational cooperation.
Presentation: Under-tourism: Opportunities for Western Australia
---
Professor Christof Pforr
Discipline Leader and Course Coordinator for Tourism & Hospitality
School of Marketing, Curtin University
Professor Christof Pforr is Discipline Leader (Tourism, Hospitality & Events) and Course Coordinator for Tourism & Hospitality with the School of Marketing  at Curtin University.
Professor Pforr has more than 20 years teaching and research experience at university level at four Australian universities and has held significant leadership roles in research as well as teaching and learning. Reflecting his academic background, which spans across tourism management, geography, political science and history, Professor Pforr's past and current research is inter- and multidisciplinary. In essence, his activities concentrate on four interconnected research areas, sustainability, tourism public policy, destination governance and special interest tourism.
Presentations: Under-tourism: Opportunities for Western Australia
---
Professor Harald Pechlaner
Professor of Tourism and Head of Centre for Entrepreneurship
Catholic University of Eichstätt-Ingolstadt, Germany
Professor Harald Pechlaner is Professor of Tourism and Head of the Center for Entrepreneurship at the Catholic University of Eichstätt-Ingolstadt, Germany and Head of the Center for Advanced Studies at the European Academy of Bozen/Bolzano (EURAC), Italy. Since 2014 Harald Pechlaner is Adjunct Research Professor at the School of Marketing/Curtin Business School in Perth/Western Australia. His research is focused on destination governance and leadership, entrepreneurship and global challenges for regions and destinations.
Prof. Pechlaner is President of the AIEST (Association Internationale d'Experts Scientifiques du Tourisme). Since 2016 Harald Pechlaner is a full member of the European Academy of Sciences and Arts.
Ms Natalie Olbrich
Research Associate
Catholic University of Eichstätt-Ingolstadt, Germany
Natalie Olbrich is a PhD student and Research Associate at the Chair of Tourism at the Catholic University of Eichstätt-Ingolstadt (GER). After her bachelor in Tourism Management at the Deggendorf University of Applied Sciences she completed her master's degree in Tourism and Regional Development at the Ernst Moritz Arndt University of Greifswald. Before Ms Olbrich became a member of the chair team she worked for HRS – Hotels Reservation Service as Account Support Manager.
---
Professor Bao Jigang
Changjiang Distinguished Professor
Sun Yat-Sen University, China
Professor Bao Jigang is currently Professor of the School of Tourism Management of Sun Yat-Sen University and Director of the Monitoring Center for UNWTO Sustainable Tourism Observatories. He is also a member of UNWTO's Panel of Experts, member of CNTA China Tourism Reform and Development Advisory Committee, the President of Tourism Education Branch of the China Tourism Association, as well as a Fellow of the International Academy For the Study of Tourism. His main research fields are basic theory of tourism geography, sustainable tourism development , theme parks  and tourism planning.
Presentation: Managing masses: Over-tourism as a challenge for Chinese attraction points
---
Ann Sherry
Chairman, Carnival Australia
Ann is one of Australia's leading business executives with a career that spans Government, Banking and Cruise Tourism.
She is currently the Chairman of Carnival Australia, the largest cruise ship operator in Australasia and a division of Carnival Corporation & Plc. After joining as Chief Executive Officer in 2007, she has transformed the industry and growth has been in double digits each year since.
Ann is the Chair of UNICEF Australia, a Council Member of Philanthropy Australia and currently holds non- executive roles with National Australia Bank, Sydney Airport, Palladium Group, Rugby Australia, Cape York Partnerships, Museum of Contemporary Art Australia and Infrastructure Victoria.
Beginning working life as a radiographer, Ann became First Assistant Secretary of the Office of the Status of Women in Canberra before moving to the banking sector initially in HR roles, then in CEO roles with Westpac NZ and the Bank of Melbourne.
The Australian Government awarded Ann the Centenary Medal in 2001 and in 2004 she was awarded an Order of Australia. In 2015, Ann was named as the overall winner of the Australian Financial Review 100 Women of Influence Award.
Ann devotes considerable energy to her passion for women's rights (currently as convenor of the MCC STEM group), supporting opportunity for Indigenous communities, personal philanthropy and support of the arts.
Presentation: The Cruise Industry: From global challenges to local opportunities
---
Mr Guy Taylor
Guy has over 20 years of experience in brand strategy in North America, the EU, Australia and the Middle East. He recently led Australia's largest qualitative survey into the factors that drive Place Brand success for the Tasmanian Government.  Guy evolved the Tasmanian Tourism brand, and The Northern Territory Place Brand and is currently working with Tourism WA to define what makes tourism in the state competitively different from anywhere else in the world.
Presentation: Why local is the new global
---
Claire Werkmeister
Director Aviation Development and Policy
Tourism WA
Claire Werkmeister is the Director Aviation Development and Policy for Tourism WA, overseeing a variety of areas including international and regional aviation development for the State of Western Australia.  With more than a decade's experience in the aviation and government sectors, Claire joined Tourism WA in 2014 moving across from Melbourne. Previously, working at Tourism Victoria and Heathrow Airport. Claire partners with a variety of stakeholders across government and from airports, airlines and the tourism and business sectors. Her key aim is to seek a cooperative approach to achieving new routes, additional flights, and facilitating improved regional aviation access and value.  The announcement of direct flights to London and recently Japan; the introduction of an affordable air fare initiative on Qantas' Perth – Broome service; as well as increases in aviation capacity to China, Indonesia and New Zealand are just some of Claire's accomplishments during her time at Tourism WA.  Claire is also an integral member of a number of Western Australia Government's cross agency sub-committees or taskforces, including the roll out of recommendations concerning the Parliamentary Inquiry into regional airfares in Western Australia. As well as aviation and tourism, Claire has a strong interest in women in leadership and executive positions.
Presentation: Tourism and aviation route development
---
Mr Gavin Treasure
Chief Executive Officer
Mid West Development Commission
Gavin Treasure has held the position of Chief Executive Officer for the Mid West Development Commission for over 6 years. Prior to this appointment, Gavin was employed as Chief Executive Officer for the Shire of Morawa and prior to that Gavin held a senior position with the Geraldton Port Authority. Gavin holds two post graduate qualifications – a Master of Commerce and a Master of Business Administration. Gavin is also a Certified Practising Accountant. Even though he holds strong accounting and finance qualifications, Gavin's real passion is to innovate and 'think outside the square'. It is with this mind-set that has resulted in Gavin taking leadership roles in key projects throughout WA. Through Morawa's achievements, the Shire of Morawa was awarded Best Practise in Local Government at the 2010 Regional Achievement & Community Awards. The Shire of Morawa also took out the Best Regional Collaborations Category at the 2011 National Awards for Local Government. In 2011 Gavin was personally bestowed with the Leadership and Innovation Category Award at the 2011 Regional Achievement & Community Awards.
Presentation: A regional perspective from the Mid-West
---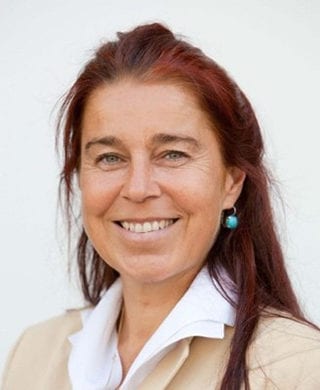 Professor Hélène Cristini
Dr Hélène Cristini is a Professor of International Relations Theory and Business ethics. Her foci include Ethics in Luxury, Strategy Leadership and Ethics and International Relations Theory at the International University of Monaco (MBA). Educated both in the West in American universities (U.T . Austin and U. Mass. Amherst) and in the East (at the University of Bombay/Mumbai, India) she finished her PhD in political science in India. Interested in religious and secular fundamentalisms and in management encompassing ethical luxury, ethical leadership through the lenses of the mimetic theory of René Girard, she publishes in both fields.
Abstract:
If modern life and its cult of speed epitomized by neoliberalism have helped to promote materialistic development, it has also caused tremendous ills: physical degradation of the planet via consumer capitalism, growing polarization of rich and poor and last but not least, social acceleration leading to 'time sickness' are some of them. As a result, new desires in tourism, but not only, have emerged to give the change to this haste. More and more tourists long not only for deceleration after having experienced an overcrowded, noisy and hectic one, but also for a decommodified sociability when they travel. Instead what they crave for is the luxury of emptiness, silence and deceleration. Contemplative tourism may be the new trend. 'Undertourism' that used to be seen as low in terms of touristic activities may well turn out to be seen as high in the new luxury: its weakness is inherently its strength when appraised by ecospiritual standards.
---
Professor Geoffrey Wall
Distinguished Professor Emeritus
University of Waterloo, Canada
Geoff Wall is Distinguished Professor Emeritus, University of Waterloo, Canada. He is interested in the implications of tourism of different types for destination areas with different characteristics, the socio-economic implications of climate change, and the planning and management implications of such information. Much of his research for the past thirty years has been undertaken in Asia, initially in Indonesia and, more recently in China, including Taiwan. He was given the Award for Scholarly Distinction in Geography of the Canadian Association of Geographers in 2011, a Friendship Award by the People's Republic of China in 2014 and the Ulysses Prize by the United Nations World Tourism Organization in 2017.
Abstract:
Overtourism is not a new concept but is a reincarnation of carrying capacity which has a history of about 50 years in length. Carrying capacity was ultimately found to be a simplistic concept but it generated conceptual and practical thinking in areas such as limits of acceptable change, opportunity spectrums and visitor management. However, unlike capacity which received most attention in relatively natural settings, overtourism thinking is an outcome especially of urban tourism, particularly in Europe, where the situation is made more complex by the number and variety of stakeholders, the growth in size of the units of production, and the speed of change. Furthermore, it is likely that notions of crowding and capacity are culturally contingent. This will be illustrated by examples from China.
---
Professor Sam Huang
Research Professor
School of Business and Law, Edith Cowan University
Professor Sam Huang is a research professor in the School of Business and Law, Edith Cowan University (ECU) in Australia. Before entering academia, he worked as a government official in Beijing at China National Tourism Administration (CNTA). Professor Huang is an internationally recognized leading scholar researching China tourism. He is a founding fellow of the International Association for China Tourism Studies (IACTS) and the Director of the Australia-China Tourism Research Network (ACTReNet). Influent in Mandarin Chinese and with both industry and academic experiences in China, Hong Kong and Australia, he is ideally positioned to bridge the tourism academia and industries between China and Australia.
Presentation: Uncrowded, safe, clean places: Motivations of Chinese outbound tourists
---
Dr. Meng Wei
Deputy Director of the Ecotourism Planning Centre
South China Agriculture University
Dr. Meng Wei is deputy director of ecotourism planning centre of South China Agriculture University (SCAU). He holds a PhD in Tourism Management from Sun Yat-sen University and his main research interests include tourism governance, coastal tourism and rural tourism.
Dr. Meng Wei has contributed to publications focused on tourism resources property rights, campaign-style governance and the stigma of tourism employment. He holds some projects supported by the Fund of the National Natural Science Foundation of China and National Tourism Administration. He has participated in about 100 tourism consulting projects over the past decade. His consulting experience is mainly in mainland China and some Southeast Asian countries. Based on his research and professional experience, Dr. Meng Wei has some interesting ideas on tourism development model.
Abstract:
In the past ten years, when China's urban development has reached a high level, tourism development in rural areas has become the next hot spot. Under the guidance of the "beautiful countryside" of the central government, capital, policy and creative industries have concentrated in rural areas and developed a large number of tourist attractions or tourism towns. This report analyses several typical models of rural tourism development in China, such as government-led, enterprise-led and village collective-led. The report compares the operational logic behind the different models, as well as political purpose, economic risks and life-cycle. Finally, by comparing the typical cases of China and Western Australia, it puts forward some suggestions and lessons for the development of tourism in Western Australia.
---
Ms Christine Cole
Cruise Shipping Project Manager
Tourism WA
Christine Cole has been the Cruise Shipping Project Manager at Tourism WA for over six years, and is Secretariat of the Cruise WA Committee Chaired by Professor Ross Dowling OAM.  Prior to joining Tourism WA in 2001; Christine was with Bali Hai Cruises for eight years in Indonesia. With almost twenty years at Tourism WA, Christine has acquired extensive tourism marketing and development experience and successfully completed a Post-Graduate Diploma in Tourism Management at Curtin University in 2006.
---
Professor Peter Newman
Professor of Sustainability
Curtin University
Peter Newman is the Professor of Sustainability at Curtin University. He sat on the Board of Infrastructure Australia and is a Lead Author for Transport on the IPCC. His books include 'Green Urbanism in Asia' (2013), 'Resilient Cities: Responding to Peak Oil and Climate Change' (2009), 'Green Urbanism Down Under' (2009) and 'Sustainability and Cities: Overcoming Automobile Dependence' with Jeff Kenworthy which was launched in the White House in 1999. In 2001-3 Peter directed the production of Western Australia's Sustainability Strategy in the Department of the Premier and Cabinet. In 2004-5 he was a Sustainability Commissioner in Sydney advising the government on planning and transport issues. In 2006/7 he was a Fulbright Senior Scholar at the University of Virginia Charlottesville. In 2011 Peter was awarded the Sidney Luker medal by the Planning Institute of Australia (NSW) for his contribution to the science and practice of town planning in Australia, and in 2014 he was awarded an Order of Australia for his contributions to urban design and sustainable transport, particularly related to the saving and rebuilding of Perth's rail system. He was an elected Fremantle City Councillor from 1976-80 where he still lives.
---
Professor Kirsten Holmes
Professor, School of Marketing
Dean of Research, Faculty of Business and Law, Curtin University
Professor Kirsten Holmes is an internationally-recognised expert in the study of volunteering, particularly in events, leisure, sport and tourism contexts. She also has expertise in developing sustainable events and festivals and is the lead author of the Routledge textbook Events and Sustainability (2015).
Kirsten has taught at universities in Australia and the UK and has conducted research across 15 countries. She has published more than 60 peer reviewed papers in leading journals including Nonprofit and Voluntary Sector Quarterly, Annals of Tourism Research, Tourism Management, Leisure Sciences and Voluntas.
Kirsten's research has been funded by the Australian Research Council, the Australian Government's Office for Learning and Teaching, the UK Government and the International Olympic Committee.
Kirsten is regularly invited to work with industry and government, particularly the not-for-profit sector.
---
Mr Kevin Brown
MBA, MSc, BEng(Hons), CEng, FIET, GAICD
Chief Executive Officer, Perth Airport Pty Ltd
Kevin Brown commenced in the role of Chief Executive Officer of Perth Airport, the operator of Perth Airport, in July 2016, and has been involved in operational and commercial roles in both hub and regional airports for more than 15 years in the UK and Australia.
Prior to joining Perth Airport, Mr Brown held the position of Chief Executive Officer of North Queensland Airports, which operate Cairns and Mackay Airports, where he was responsible for implementing a growth strategy for both airports. Mr Brown also spent nine years with the British Airport Authority (BAA), and was Managing Director at Edinburgh International Airport.
In 2017, Mr Brown was appointed to the Tourism Western Australia Board and is also a Council Member for the Chamber of Commerce and Industry Western Australia and Freight and Logistics Council of WA.
---
Mr Robert Taylor
CEO, Western Australia Indigenous Tourism Operators Council
Robert Taylor currently holds the position of CEO of Western Australia Indigenous Tourism Operators Council (WAITOC)
In this role he represents Aboriginal businesses from across WA. The role demands strategic thinking and future development in order to overcome both business and cultural barriers that face his members. His ability to advocate process driven changes have been acknowledge at a state and national level of government.
Robert has an ability to implement governance systems that provide transparency and smooth operational outcomes at both board and operational levels. He believes that the instigation of reliable and easy to implement processes provides opportunities for smooth running organisations which can be continuously improved and streamed lined to suit the consistent diversification of business.
---
Mr Steve Crawford
Visitor Communications and Marketing Manager – Parks and Wildlife Service
Department of Biodiversity, Conservation and Attractions

Steve Crawford is the Visitor Communications and Marketing Manager for the Parks and Wildlife Service at the Department of Biodiversity, Conservation and Attractions.
He has a long history of involvement in Western Australia's tourism sector mostly with the Tourism Western Australia, Rottnest Island Authority and now the Parks and Wildlife service.  A past National Tourism Award recipient, Steve has a wealth of tourism industry experience in such areas as tourism destination planning, research, policy development, trade marketing, tourism product development and business enterprise development.  He has represented Western Australia on numerous national taskforces and committees in such areas as Indigenous tourism, climate change, ecotourism, tourism planning and cruise shipping.
Steve is currently Deputy Chair, Forum Advocating Cultural and Eco Tourism, a member of Edith Cowan University's Tourism and Hospitality Consultative Committee, ex officio board member of Australia's Coral Coast, and recently retired board member of the Curtin Business School Marketing Advisory Board.
---
Ms Michelle Reynolds
Executive Director, Rottnest Island Authority
Ms Michelle Reynolds is Executive Director of the Rottnest Island Authority (RIA), commencing at the RIA in January 2017. Prior to this, Ms Reynolds was Chief Executive Officer of WorkCover WA from December 2008.
Ms Reynolds was with the Department of the Premier and Cabinet, heading the Public Sector Management Division prior to commencing at WorkCover WA.
During 2012 Ms Reynolds was seconded to the Department of Premier and Cabinet to support the establishment of a new sub-department for the State Emergency Management Committee and to develop the State's first Emergency Preparedness Report.
In May 2013 Ms Reynolds was again seconded to the Department of the Premier and Cabinet to work on the establishment of the Office of Science.
Ms Reynolds has a Bachelor of Arts and a Masters of Business Administration (University of Western Australia).
---
Dr. Dirk Glaesser
Director for Sustainable Development of Tourism
World Tourism Organization

Dr. Dirk Glaesser is the Director for Sustainable Development of Tourism at the World Tourism Organization (UNWTO). The department deals with the different challenges and opportunities of tourism development, among them environment and planning, investment and finance, risk and crisis management.